Our Impact
Local communities, our nation and the world.
EDSI is a champion of cultivating, prospering and preserving a culture centered around our core values of Show Up, Smile and Support. We aim to make great impact in our local communities, our nation and the world.
Diversity, Equity and Inclusion
BETTER TOGETHER.

At EDSI, our core values of Show Up, Smile, and Support guide our efforts. We believe it takes all of us to be great, and we are committed to promoting a community that listens, learns, and acts to live our values for all.
For more than a decade, Corp! has recognized businesses, organizations, and leaders who champion diversity, equity, and inclusion initiatives and achievements within their organization or the community. EDSI is a very proud 2021 Corp! Salute to Diversity Award winner and happy to congratulate our own Reina Kimso on her 2022 Corp! Magazine Salute to Diversity Business Leader recognition!
A Statement from our Chief Servant Leader Regarding Systemic Racism.

Our EDSI Values are SHOW UP, SMILE and SUPPORT. We will Show Up to stand against systemic racism. We will Smile and act as a positive force for what is good and just. And, we will Support others, most importantly, our colleagues and communities of color.
We are hopeful that the horrors of recent events, and the history of inequity, can call us to stretch beyond public statements, to recognize and acknowledge past failures of mine and other privileged people, to learn, to love, and to leverage our shared strengths to create powerful and permanent change.
We are making space in our company's communication to come together and share reflections, hold conversations, provide additional training and post connections to resources that help our representatives take actions that improve each community we serve.
I promise that the culture of EDSI will always reflect our values as we strive to be better and do better each and every day.
Very Humbly,
Kevin Schnieders

A Statement from our Chief Servant Leader in Support of People of Asian-American and Pacific Islander Decent.
I know I speak for the entire EDSI family when I say we will always Show Up to Support our Asian-American and Pacific Islander (AAPI) colleagues. The last twelve months have seen a terribly distressing trend in racism and violence against people of AAPI decent.
Stop AAPI Hate, a group formed last year, shared that 3,795 incidents of racism and discrimination were reported to them between March 2020 and February 2021. That is a trend we need to reverse. We can't stop until there are zero incidents to report.
Within our EDSI culture, I am encouraged that so many of our family members have joined daily interactions on our Social Justice Page. I witness people moving from what professor and author, Dolly Chugh refers to as "Believers to Builders." We are making statements of unity and we are moving with action to build equity.
It is beyond critical that our support is felt. We must be anti-racist. We must strive to learn and grow every day. We must lead with empathy in all our actions. We must show up for others.
Very Sincerely,
Kevin Schnieders
EDSI is a proud Certified B Corporation, certified by the nonprofit B Lab. EDSI's elite B Corp status puts it in a category with thousands of other high-caliber businesses setting the gold standard for good business. Through B Corp Certification, EDSI aspires to use the power of business to help solve social and environmental problems while operating under the highest standards of awareness, performance, transparency and accountability.
EDSI has provided workforce development program services for over 40 years. Within this business segment, we assist individuals with the transition from unemployment to employment and from under-employment to self-sufficiency. We are proud to serve our local communities and regions, providing support and economic empowerment for underserved populations.
To learn more about our workforce development program services - click here.
Here's a snapshot of our Overall B Impact Score:
A Diverse and Talented Team
EDSI values its team of unique individuals and respects the beliefs and backgrounds of every person. Our company is committed to building a talented, engaged and diverse workforce at all levels in the name of equality and prosperity.

The recruitment team currently reviews demographics to ensure that we have proper representation in our offices.

EDSI recruits at various organizations to ensure that we always have a diverse candidate pool.
Floating Holidays are offered to employees as a means to allow them to celebrate their individual holidays.
We celebrated Juneteenth as a day of service with EDSI employees and we're eager to continue this going forward. Training will also be conducted to foster more conversations and growth.
We have a Social Justice page as a resource for our employees. This page includes video resources, books and podcasts along with movies and documentaries. There is also a reflection section that gives employees the opportunity to share their thoughts and opinions and chat with other EDSI employees.
We continue to have many eager employees who want to participate in the ongoing development of our DE&I initiatives. We conducted two focus groups for ideation sessions on this topic. The groups then presented to our leadership team and we continue to execute on those ideas. Individuals from the team are helping to support these efforts.
Community Action and Giving Back
With U.S. locations in the midwest, northeast, and south, EDSI actively supports all the communities in which we work and live. Volunteering throughout the year is a regular practice for EDSI employees who support many different causes that are close to their hearts.
Community service is a regular part of EDSI employees' lives both in and outside of the office. We support and volunteer at Veterans organizations, food banks, homeless shelters, underprivileged youth programs, animal shelters, childrens' wish organizations, and many more.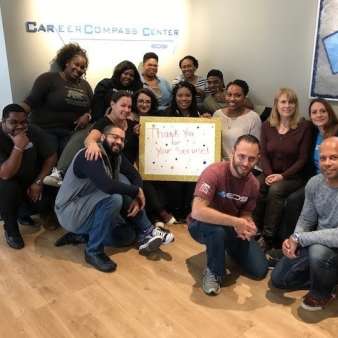 EDSI's Corporate Giving Jeans Day Program offers employees a bi-monthly opportunity to dress down and suggest worthy organizations to send donations to. Listed below is a sampling of organizations from 2022.
EDSI Supports Fields of Dreams Uganda
World Clothes Line Delivery to EDSI
EDSI - Community Service Days 2017