Online, Hybrid, Blended and Flipped Instruction: What's the Difference?
·
In today's world we are fortunate to have a variety of instructional delivery methods at our fingertips. Technology, being the ever-changing beast that it is, has afforded us the wonderful opportunity to explore professional development and educational initiatives that can replace, enhance, or supplement in-person or classroom instruction. Having such wonderful technology available has helped those of us in education address the concern of "lack of time."
I cannot tell you how many times I am asked to deliver what should be a 5-day training program in only 2 days! Just like educators across the nation, I am being asked to constantly meet the demands of higher expectations, larger class sizes, and reduced instructional time for a group of learners whose knowledge base and experiences vary dramatically. What is an educator supposed to do?
Those of us who truly love education and training constantly juggle these conflicting demands to provide our learners with the best experience possible. Meeting all the needs of our learners is a difficult challenge, and over the course of my time in the field I have learned to rely heavily on a variety of instructional delivery methods to compensate for the competing demands. Online instruction, blended learning, hybrid learning, and flipped instruction have become staples in my instructional design conversations. Very often, however, my customers don't really know what these techniques are and how they can help.
Below is a breakdown of these delivery methods, characteristics and considerations to give you a better idea of how they work. This list is by no means exhaustive, but it includes some of the more common terms used to assist those who are exploring alternative teaching methods to meet current educational demands.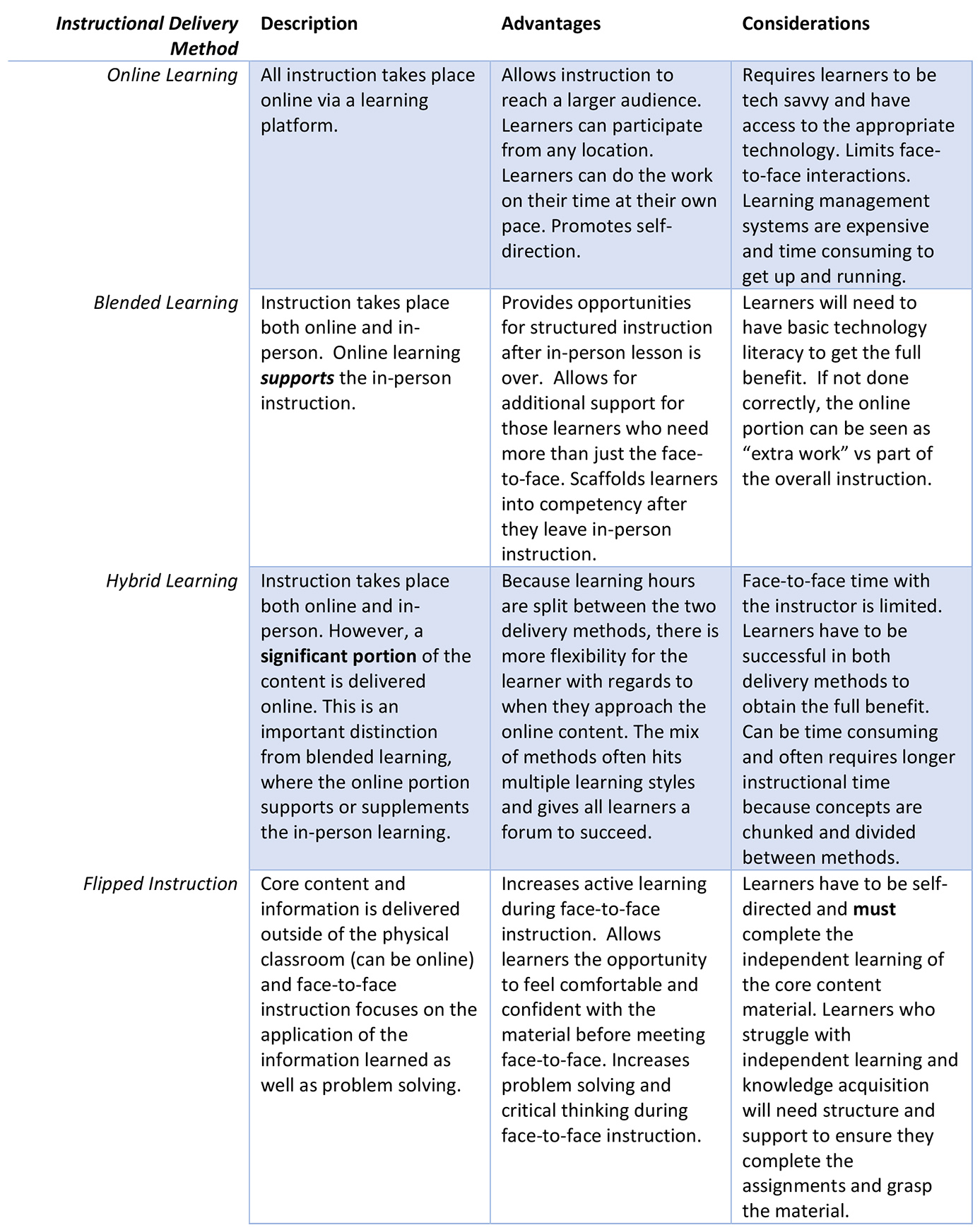 Subtle distinctions between these methods mean big differences for both instructors and learners. Selecting the most appropriate method for the educational objective, audience, time frame, etc. takes thoughtful conversations and a good deal of planning.
If you are interested in additional information about alternative instructional delivery methods or want more information on the instructional consulting services we provide, feel free to contact me at kglenn@edsisolutions.com.